Buy the little book of Moonville Ghosts by Jannette Quackenbush
Or come take a hike and ghost hunt with me along the old trails of Appalachia, like those in Moonville, with ghost stories and legends attached.
A couple Haunted Hikes: Occasionally the roar of wheels to rail and the mournful cry of a train horn fill the air on the old Baltimore and Ohio tracks between Zaleski and Athens, Ohio. Yet, locomotives have not run the nearby rails in over thirty years. Trainmen dreaded taking the late night runs through this isolated section because the ghost of one of their own, engineer Theodore Lawhead, was killed here when his train collided with another near this tunnel on a cold November night in 1880. After, newspapers reported his ghost was seen floating down the embankment dressed in white with a lantern in hand and eyes glowing red. Perhaps you will see and hear these ghosts too during a special night hike with author Jannette Quackenbush on a night with a full moon. Find out more here-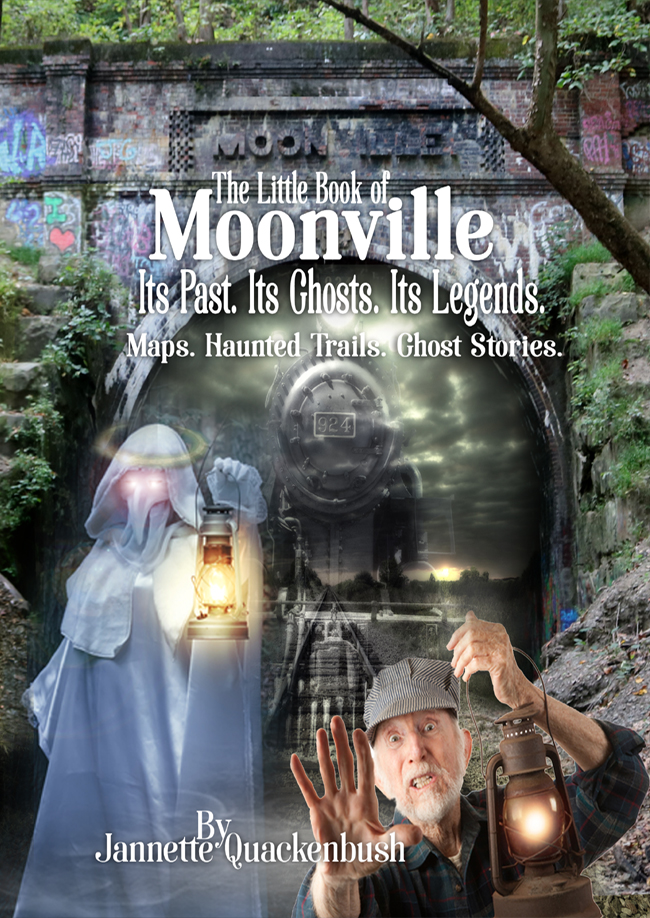 Take a walk with Lucy and Jannette and see Moonville through the eyes of the Lucy Cam!
A video I took many years ago that was on "My Ghost Story" when few people ventured because you had to hike through Forestry to get there or cross the risky waters of Raccoon Creek. And no, no other people were around. . .
The Moonville Rail Trail is maintained by Moonville Rail Trail Association, established in April of 2001 in order to build and maintain the muscle-powered Moonville Rail Trail system.